Techno Bodies; Hybrid Life?
Material Beliefs curated an evening of discussion and debate with The Science Museum at the Dana Centre on Tuesday 22nd January. Here's what the Dana Centre had to say about it:
Meet engineers and designers who are blurring boundaries between technologies and your body. What counts as a hybrid life form and how might it affect you?
More details from the Dana on this event page.
Hosted by Gareth Mitchell, it was a frenetic evening with a full programme and a capacity crowd.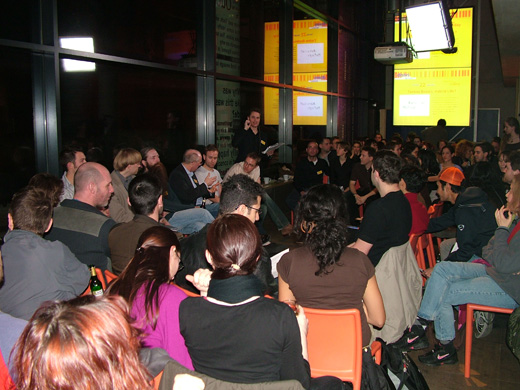 above: Gareth Mitchel indroduces the evening in the cafe sopace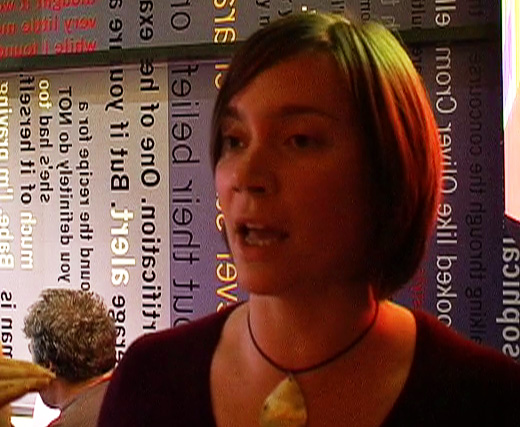 above: See Steve Jackman's film of Techno Bodies at the Dana Centre.
---
Sessions
There were four content areas, running in parallel over two repeated sessions. Each area was lead by a short presentation follwed by discussion about the technologies, and issues arrising from the use of the technologies.
More about each session below.
EcoBot: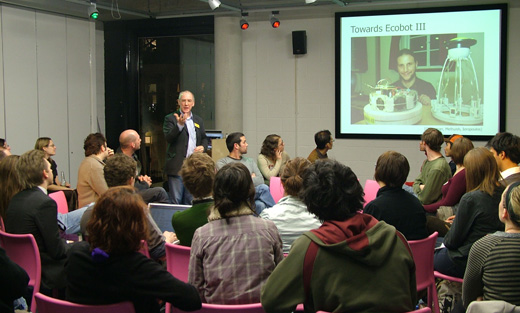 Ecobot is a a fly-eating robot whose digestive juices power-up microbial fuel cells to generate its own power. This research project is based at Bristol Robotics Laboratory, and was presented in the d.studio, and hosted by:
Alan Winfield, Engineer, Bristol Robotics Laboratory
James Auger, Designer, Material Beliefs
Jimmy Loizeau, Designer, Material Beliefs
You can download a pdf of presentation from the Ecobot session here and jump to some filmed discussion here .
Life Extension: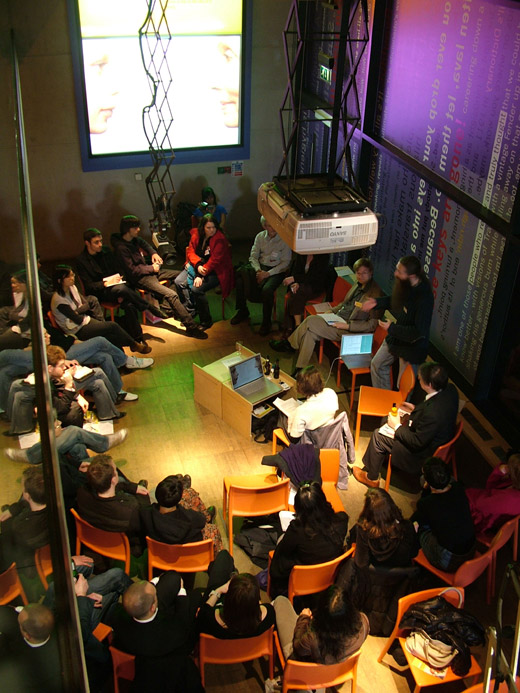 In the d.cafe there was a focus on life extension, drawing on philosophical views upon technological oppurtunities for treating the symptoms of ageing.
Aubrey De Grey, Chairman and Chief Science Officer of the Methuselah Foundation
Anders Sandberg, Neuroscientist, Future of Humanity Institute
Susana Soares, Designer, Material Beliefs
You can download the powerpoint that accompanied the life extension discussion here and here more about the issues in this section of the film.
.
Animat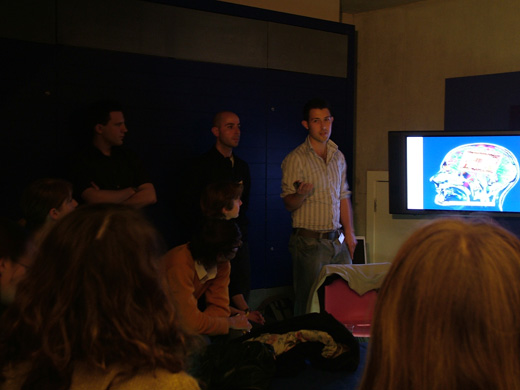 Members of Cybernetics and the School of Pharmacy from Reading University were based in the d.lounge south. Discussion focused on Animat, a robot controlled by a culture of neural cells via a wireless link.
Elio Caccavale, Designer, Material Beliefs
Julia Downes, Researcher, Cybernetics
Mark Hammond, Researcher, Pharmacy / Cybernetics
Dimitris Xyda, Designer, Cybernetics
You can download a powerpoint from the Animat presentation here, see a film of the robot here and jump to a relevent sequence in the film of the dicussionhere.
Digital Plaster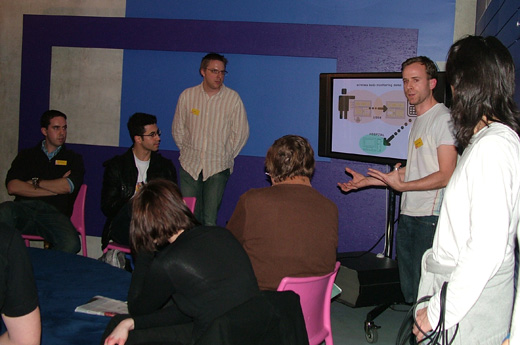 Finally in the d.lounge north there was some exploration of the Digital Plaster, a skin worn patch containing a cluster of biometric sensors that communicate to the wearer's mobile phone.
Tobie Kerridge, Designer, Material Beliefs
Nick Oliver, Physician, Institute of Biomedical Engineering
You can download a pdf of the Digital Plaster presentation here and see some filmed discussion here.
Read some responses in blogs by Science Punk and Alan Winfield